Digital technologies are reinventing everything, from products and services to supply chains, partnerships and business processes such as marketing, distribution, sales, payments and customer management.
The impact is so inordinate that even digital startups are getting to billion dollar valuations in 4 years compared to Fortune 500 companies that once took 20 years to get there [1]. Some industries have been faster and smarter than others to recognize this power of digital. Media and entertainment lead the way with retail, high tech, financial services, travel, healthcare, telecom and utilities not far behind. And yet, despite the investments being made in digital the returns, so far, have been uneven within and across industries. Are digital investments being misdirected? Are they backed by inadequate skills? Are they targeting the wrong processes? Do they need to work in tandem with other technologies? Our job as a digital accelerator is to enable our clients accelerate their digital transformation journeys by integrating NextGen technologies, workflows, automation and business processes to provide agility, flexibility and an enhanced user experience to their customers.
Predictable, measureable
As a technology company, we have evolved and realigned our services and solutions with the digital needs of our clients. After investing over 25 years in setting up, supporting and integrating the technologies that drive global enterprises, we are well positioned to create a tightly connected and effective organization with a digital heartbeat and data as its lifeblood. We have set ourselves the task of using our expertise to capture value from digital in a predictable and measurable manner.
How do we do this? First, by doing what any sensible business would do—by identifying clear cut outcomes that match the business goals of our clients. Then building the fastest, the most cost-effective, friction-free and safe digital path to those outcomes. This means knowing precisely the digital tools, systems, processes, partnerships and people required to target each outcome. Using these tools and methodologies, there are six areas of digital where we bring our expertise to deliver results
Demonstrable capabilities in cloud infrastructure that tie the essential elements of digital transformation and agility
Bringing data, applications and information to any device, anywhere at any time using mobile technologies
Generating and making use of analytics, algorithms and machine learning so that we create "intelligent" and "smart" businesses
Being adept at API management, especially to tie together multiple internal as well as external systems while having the capability to be bi-modal
Leveraging the power of the Industrial Internet of Things (IIoT) to create new products, services, efficiencies and business models
Enabling the highest levels of pro-active data, application and network security so that clients can conduct business with confidence
Safer, optimal, repeatable
To us at Microland, digital technologies are additionally meant to unleash the creativity of people, improve the power to validate thinking and strategy, connect the dots that we could not do before, and above all, rapidly iterate ideas in a safe, affordable and repeatable manner.
Too many organizations have misjudged the pace at which digital will evolve. They see the difference it can make when they use Uber to hail a ride or make a travel booking using Expedia and AirBnB or enroll for an online course on corporate finance at an online university. However, when it is time to apply digital to their own business and enterprise, they freeze, like deer caught in the glare of powerful headlights. Decisions are postponed (largely due to a lack of guidance through the overwhelming supermarket of digital solutions) and endless debates are held. But there is no time to waste. In the world of digital, it is time to do or die.
Let me try and explain this in simpler terms. Technology leaders like Oracle, Microsoft, SAP, Sage and QAD are moving their products to cloud environments, backed by mobile features and data-driven intelligence. Soon – sooner than we can imagine – these organizations will retire their traditional on-premise solutions. Organizations that are not already cloudified/ mobile/ digital/ won't know where to go or what to do for support. Here is another way to look at what is on the horizon: the fastest, most nimble and innovative companies that are launching broadsides on traditional incumbents are mobile-first, cloud-native, born digital. The only way to partner them or leverage their services is to become digital, and get there fast. That's where we fit in, as a skilled and experienced digital accelerator who can safely guide clients through these disruptive and turbulent times.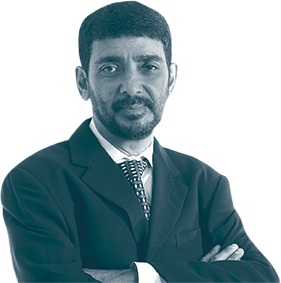 "Our job as a digital accelerator is to enable our clients accelerate their digital transformation journeys by integrating NextGen technologies, workflows, automation and business processes to provide agility, flexibility and an enhanced user experience to their customers."
Pradeep Kar
Founder, Chairman & Managing Director
"Our job as a digital accelerator is to enable our clients accelerate their digital transformation journeys by integrating NextGen technologies, workflows, automation and business processes to provide agility, flexibility and an enhanced user experience to their customers."
Pradeep Kar
Founder, Chairman & Managing Director